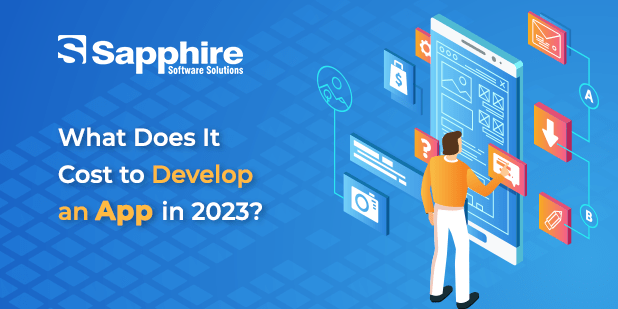 Blog
What Does It Cost to Develop an App in 2023? Get the Facts!
App development demand has been increasing rapidly in the last few years, and it will also increase in the coming years. Before investing in an app, the first thing that comes to your mind is probably the cost. The cost to develop an app varies depending upon several factors, such as the app type, features, and application development company you choose. In this blog, you will learn everything about the cost of developing an app.
An Overview of Estimated Average Mobile App Development Cost
The cost of developing a mobile app from scratch is contingent on several variables, including the app's complexity, features and functions, development strategy, and more. However, there is no need for concern as we have performed a comprehensive study of all the elements that affect the cost of mobile app development. Hire the best mobile app development company.
Once acquainted with these variables, you can estimate the cost of app development using the conventional method. The formula or answer to the question, "how much does it cost to build an app?" is derived by multiplying the number of hours required for each development phase by the billable hours of resources.
Aspects Affecting Your Mobile App Development Cost
The cost of mobile app development depends on several significant aspects. Understanding these cost-influencing aspects will allow you to make the most cost-effective choices and provide the most return on investment for your development. Additionally, it will help you stick to your budget. Therefore, let's examine the primary aspects influencing the entire mobile application development cost.
Mobile app complexity
These applications integrate social networking, financial gateways, audio/video streaming, user privacy, and more.
These applications use AR/VR, AI, and ML. These applications provide multi-language support, advanced data logic, and more. A complicated app may cost $100,000 to $300,000. Creating a total banking blockchain solution for Asian Bank to simplify crypto trading is a complicated app project. 50,000+ crypto transactions and 250,000+ app downloads make the app a smash.
However, Sapphire can develop apps at the most competitive rates. Whether you want ios app development or android app development services, we are just a call away.
App features and functionalities
The answer to the question of how much it cost to develop an app relies heavily on the features and functions you include in your application. The initial trends in mobile app development pricing for the sort of app you plan to produce keeps on growing with the addition of additional features.
In the first version of the app, it is suggested to focus on the essential functionality. The most excellent solution is to construct an MVP. It is the first release of a product with rudimentary functionality. The MVP will save time and money and facilitate the collection of crucial user input. It will assist you in providing an excellent client experience at a reasonable price.
Check out – Mobile App Development Process – Definitive Guide To Build Successful Apps
App Category
How much it cost to build an app depends on the category. Different categories have different user numbers, functionality, security requirements, and app development expenses.
Look at the top mobile app development categories.
eCommerce/M-Commerce applications
Amazon and Wayfair are famous because they offer loads of features that allow them to run well in real-time, manage millions of customers, and have strong security.
Social networking applications
Social networking applications use third-party connections to access devices like cameras and audio recorders. They are very scalable since they handle millions of users.
App design & animation
App design is the following component contributing to the cost of developing an app. It requires special attention to app design to ensure that your consumers devote time to your app. Generally, when choosing an app's design, we have two options: Custom UI and Standard UI. Customized UI is far more complex to create and execute than the Standard UI, which makes it more costly.
Other mobile app design elements include wireframe and animation;
•Wireframing – Developers use wireframing to generate excellent user experience features and maps. Utilized tools include MARVEL, Balsamiq, and Photoshop.
•Animation – Animation has been a common technique for making certain features of an application engaging and user-friendly. Frequently, gaming and social networking programs make extensive use of animations.
App platform
To deal with impending technological advancements and generate greater profits, businesses must modify their business processes and strategies to maintain consumer engagement. Before you begin developing your application, it is crucial to decide on the mobile development options for your app – device functionality, team development skills, budget allocation, data security, etc.
To provide users with a rich mobile experience, selecting the right mobile app development platform for your app is essential. Whether a business chooses a native, hybrid, or mobile web platform is determined by the importance of the offering. Organizations should assess the advantages and disadvantages of each platform to make more informed decisions.
Most popular app development platforms:
•Android/iOS native app platform– IOS app development uses Swift and Objective C, whereas Android app development uses Java and Kotlin.
•Web app platform—Progressive Web Applications and other web apps are cheaper than native apps.
•Cross-platform — Developing an app for iOS and Android simultaneously is the latest cost- effective trend. Single-code usage and reduced development effort are platform advantages. The cross-platform industry is split between Flutter and React Native.
•Hybrid app platform – Hybrid applications combine web and native features. Installed as a native app, it operates in a web view component.
App maintenance
Post-app development budget: undoubtedly, expenditures continue after mobile app development. Businesses must update their applications to stay up with market trends and new device and OS versions, which is costly.
•App bug fixes—No mobile app is bug-free. Most app problems are discovered after publication. Watch for bug fixes.
•Design updates – App designs are the part of a mobile app that gets old and loses appeal. To keep consumers engaged, brands must update their app design.
20% of mobile app development cost is app maintenance cost.
Code reuse
It lowers the cost of mobile app development. Reusing code from an existing app and changing the branding reduces mobile app development costs. Cost to develop an app.
However, experts advise firms to reuse common parts like contact us, log in, etc., and design the rest from scratch. Otherwise, it would take a lot of work to retain a unique brand identity.
Development team size/location
The cost of mobile app development depends on the development. App development companies, local teams, in-development teams, and freelance developers are all options. However, an experienced mobile app development firm can create high-end apps with top-notch features and functionality for your business app.
Reduce Mobile App Development Costs
Fortunately, company owners and entrepreneurs may lower mobile app development expenses by following industry norms and using specific strategies.
– This section examines how firms might lower bespoke app development expenses.
– Prioritize features early on.
– To generate commercial value rapidly, prioritize your app's features. It's vital to prioritize app functionalities while designing an app. Keep the nice-to-have aspects for later development.
– Therefore, start with an MVP.
– Involve quality assurance early on.
Your program is prone to problems and mistakes; therefore, fix them immediately. QA personnel may spot major issues before development starts.
Thus, you will save a lot that may balloon throughout your project.
Plan for the future
Tomorrow's app may appear different. Customer feedback may lead you to adjust features in an MVP. Your target market may shift, requiring product changes.
When creating an app, consider short- and long-term objectives. It will save you much money.
In-house or outsourcing
Planning for mobile app development personnel is crucial. Your choice affects the budget, workflow, and product maintenance. The final decision is outsourcing or in-house development.
Outsourcing app development gives the organization access to top personnel. It reduces office expenditures, equipment, and internal workflow. Outsourcing involves hiring a pre-existing development team. Cost to develop an app.
Read our in-depth post on app development outsourcing vs. in-house.
Consider cross-platform development
Every app entrepreneur must decide whether to launch for Android, iOS, or both platforms. Native applications for both platforms are costly. If you develop an app for one platform, you may lose out on many users on the other.
Cross-platform applications are great. Flutter, Unity 3D, and React Native are popular cross-platform app development tools. Twitter is a great cross-platform mobile app.
The team can help small- to medium-sized companies or established corporations revamp their
digital presence.
How Can We Assist You with a Cost Estimate for Mobile App Development?
There is no clear-cut forecast available for this subject. Taking into account all of the relevant aspects should enable you to arrive at a cost estimate for developing your creative app concept. Suppose you still find it challenging to calculate the ultimate mobile application development cost. In that case, you may engage a reputable app development firm like ours for superior mobile app development services.
Experts specialize in designing and deploying the most inventive, scalable app with cutting-edge features and capabilities. Contact our specialists to get started with iOS app development services if you want to create such creative mobile applications or want a preliminary quote for producing an app for your company.