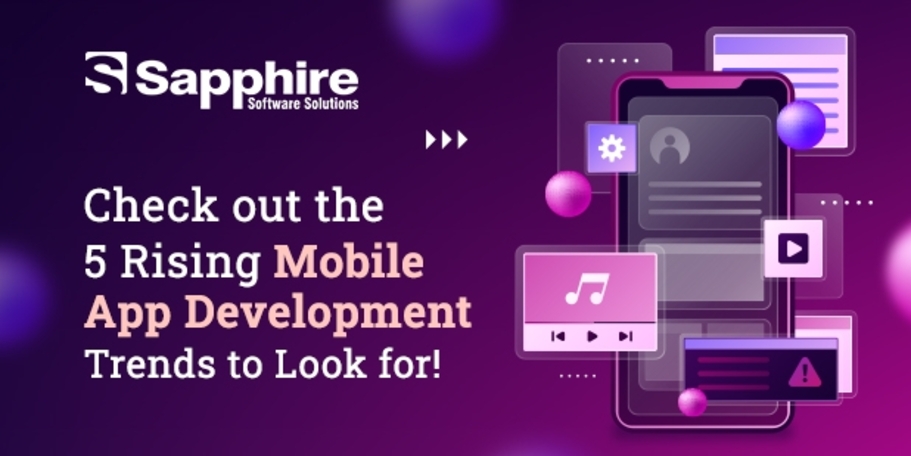 Blog
Check out the 5 Rising Mobile App Development Trends to Look for!
The smartphone has profoundly altered business structures, operational methods, and markets in today's globe. Over the last two years, the worldwide epidemic we seem to have been living in has only bolstered the app development business, which has accelerated its evolution. Check out the best mobile app development company.
By 2022, the mobile app industry will generate $693 billion in sales. To be competitive in today's environment, development firms must keep current on industry trends and exploit the newest mobile app development trends. When we attempted to forecast mobile app future trends for 2021 last year, we placed our bets on, among other things, 5G, the Internet of Things, and mobile-first leisure. We were not mistaken.
Nowadays, it seems as if every brand has a smartphone application. In 2021, approximately 900 publishers were expected to achieve the $1 million milestones, increasing 91% over 2016. Lockdowns in response to the epidemic are thought to have contributed to this substantial surge.
For your mobile application to succeed, stay relevant, and keep up with the technologically savvy competition, it must provide a better user experience than a website. The first step in accomplishing this is to keep abreast of the current mobile app market developments. There are several application development trends that we'd want to examine in further detail in 2022.
1. Blockchain
Since the Bitcoin explosion, blockchain technology has advanced significantly. By removing the need for centralized intermediaries to handle data, decentralized applications (apps) based on blockchain technology give consumers more control over their data. The technique is relevant to various fields, ranging from medical data security to supply chain and logistics monitoring. Additionally, it is critical in mobile applications, making it a highly powerful mobile development trend.
This benefit is especially significant when designing security, governance, identity, social, and money applications. By the end of March 2021, blockchain wallets, for example, will have surpassed 70 million users.
The growing increase of cryptocurrency enthusiasts who utilize blockchain-based wallets to store their currencies (such as bitcoin) in a secure location is shaping new norms for trustworthy sources of cryptocurrency information and management tools. And this will accelerate the use of blockchain technology.
2. Foldable device applications
Foldable handsets, which made an unexpected resurgence in the 2000s, seem to account for a modest portion of the total smartphone market share. However, this will alter in the future years. Global foldable phone shipments are predicted to reach 50.1 million units by 2022, according to Statista.
Current is a compelling incentive to be technologically proficient in this mobile app movement. There are plausible justifications for this: increased usability and extension of the user interface and the ability to use the device simultaneously as a phone and a mini-tablet since the display can be readily unfurled as required. Users may appreciate this.
3. The Rise of 5g
5g was already a trending topic in app development last year, and all indications are that, once it becomes a buzzword, we will see a major increase in the use of 5g technology globally. Apps become quicker and more efficient due to lightning-fast rates of up to 319 terabytes per second (Tbps), near-zero latency, high connection density, and broad bandwidth.
By 2025, 5g connections are estimated to account for 40% of all connections in Europe and 15% of all mobile connections worldwide, while 47.5 percent of all smartphones will be equipped with 5g connections next year. Thus, it's unsurprising that adhering to 5G standards is one of the upcoming trends in application development.
4. Augmented reality integration and Super Apps
Virtual reality and augmented reality technologies are two new mobile app development trends that will greatly improve user experience on Android and iOS in 2022.
The worldwide augmented and virtual reality market will reach 30.7 billion USD in 2021 and about 300 billion USD by 2024. Retail and e-commerce are two industries where firms may leapfrog their competition by using these technologies in mobile app development.
The next level of consumer connection and experience enhancement enabled by augmented reality-enabled mobile applications has elevated this technology to a revolutionary design and mobile app development trend. It is highly likely to become more widespread in the next years.
Super applications function as an ecosystem, allowing for the simultaneous execution of tasks like work, commerce, pleasure, and social engagement. This concept originally gained traction in China, owing to the WeChat messaging software, which functions more like a platform, allowing users to chat with their friends and access a broader range of online activities. Other WeChat activities include voice and text chat, group messaging, payments, and gaming.
Social networking applications are finally catching up to mega app development in the Western World. They are evolving into platforms that enable consumers to do more online without moving to other applications; Facebook's Marketplace and purchasing services, as well as Instagram's shift away from just picture sharing, are excellent examples.
The "one app – single function" model is evolving. As everyone craves convenience, super apps are unquestionably one of the mobile app market trends to watch in 2022.
5. Enterprise Mobility and Peer-to-Peer Mobile Applications
Many organizations are being forced to reconsider their recruiting and working methods after the Great Resignation. Offering remote work solutions that allow personal mobile devices is rapidly becoming the new norm. The mobile-enabled workforce enables workers to work more independently – for example, from their mobile devices – and has been shown to increase productivity and job satisfaction.
Enterprise mobile applications are designed to address specific company and corporate requirements, such as collaboration, human resources management, and marketing automation. Around 85 percent of worldwide firms were reported to have relied on their employees' devices to maintain market competitiveness and business continuity throughout the coronavirus outbreak. With the growing acceptance of BYOD (Bring Your Device), a market estimated to be worth 366.95 billion USD by 2022, and the increased use of cloud technologies, the mobile business app industry's predicted growth is inevitable.
With workplace flexibility being critical to employee satisfaction and retention, it's unsurprising that corporate mobile applications are one of the top app development trends for the foreseeable future.
Peer-to-peer payment applications, such as Venmo that enable the rapid and safe movement of cash between individuals, are gaining popularity mostly due to their ease. Users may make payments instantly, while sellers can get funds immediately into their accounts. Simple and uncomplicated.
Apart from solutions based on built-in mobile operating systems such as ApplePay or Android Pay, this technology is being implemented as a built-in payment feature in other types of mobile applications, such as social networking apps or bitcoin mobile wallets. 2022 seems to be an ideal timeframe for developing a peer-to-peer mobile payment application since it is certain to be a mobile app development trend for the foreseeable future.
Finally
It isn't easy to remain relevant in the highly competitive mobile industry unless you keep current on the newest mobile app development trends and understand how to harness them to offer an excellent product. All indications indicate that the mobile application business is set to increase. Suppose you want to build a successful mobile application. In that case, it's prudent to monitor industry trends and collaborate with a reputable partner that uses cutting-edge technology to produce engaging mobile experiences.
As a market leader and a leading mobile app development company, we have established ourselves as a market leader. Our team uses the best and most advanced technology to provide our clients with the greatest mobility solutions possible and maintain our firm's reputation as a distinguished mobile app development company.