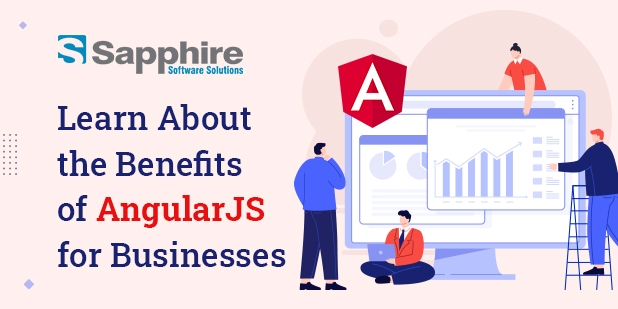 Blog
Learn About the Benefits of AngularJS for Businesses
With evolving technologies, it is critical to build web and mobile apps using a suitable technological foundation. Angular is a popular JavaScript framework used in a wide variety of sectors, from startups to businesses. Check out the best Angular development company in India, USA.
The framework is mostly used to create strong and agile single-page applications (SPA). Due to the fast advancement of technology, most businesses now use Angular developers to create their mobile apps. The framework simplifies front-end development and includes a slew of excellent features that will set your application apart from the competition.
We are a seasoned AngularJS expert for hire that provides exceptional services to a worldwide customer base. We specialize in creating reliable and secure AngularJS applications as an offshore software development company in India. Due to its excellent performance and comprehensive & intuitive nature, it is a widely chosen framework. We can provide you with Angular developers to help you create feature-rich apps and other software solutions. Additionally, we provide end-to-end solutions and develop efficient apps to meet all of your business's requirements.
The benefits of using Angular in your company:
1. The Ionic framework: The Ionic framework is a front-end SDK (Software Development Kit) for developing hybrid mobile apps. It supports various UI segments for a more sophisticated user experience. Now is the time to hire a developer for best-in-class service and future-proof apps.
2. Single-Page Applications: Angular is well-known for its single-page application development capabilities. Because SPAs load the whole of a site onto a single page, clicking on other links does not refresh the page. Several domains feature single-page applications, including video streaming websites, weather forecasting websites, user reviews, and travel apps.
3. Data binding that is effective or data binding that is bidirectional: Two-way data binding is one of Angular's best features. Between the data model and the HTML display, there is effective synchronization. Any changes made to the user interface are instantly mirrored in the data model and vice versa.
4. Portable declarative Angular UI: Bootstrap 3 and Angular stage are created using Angular, which is used to build mobile and web applications alike. An Angular application creates flexible and comprehensible user interfaces using declarative HTML. You need to describe what you want, and Angular will handle the rest.
5. Exceptional user experience: While your application is being developed, Angular takes care of the application's overall appearance and feel. The framework includes libraries and modules that enhance the visual attractiveness of the application, resulting in a superior user experience. Now is the time to hire a developer from our software consulting in India to improve user experience.
6. Faster deployment and ease of use: Angular accelerates the development process by reducing the time and effort required to create apps. Due to its architectural design and dynamic nature, Angular makes applications simple to maintain and alleviates complexity. Our staff has an extensive understanding of Angular's key capabilities. It continuously creates and rewrites code to minimize any potential mistakes, ensuring that our customers' apps are simpler to maintain.
7. Security: Security is a significant issue for every commercial organization since any security breach would result in massive data problems, which enterprises cannot afford. Angular interacts with servers through RESTful (Representational State Transfer) APIs via an HTTPS interface to display data and safeguard your application from malicious threats or viruses.
8. Robust and flexible routing: Our Angular Development Company develops single-page applications with robust and flexible routing. SPAs are presented on a single page, eliminating the need to go to a new page if you click on a link or sub-menu. Employ Angular experts from our India-based offshore Angular Development Services to create agile and scalable single-page apps.
9. POJO data models: When you use Angular's data models, you don't need to apply getter and setter methods, and thus you're removing the requirement for POJO data models. Although both impulsive and well-planned objects are included in a POJO, Angular may function on its own as a separate, simple-to-use system. Selecting an outsourcing software development India firm to handle customized solutions would ensure high-quality results.
10. The MVC pattern provides an additional benefit:Â We develop sophisticated web apps using the MVC (Model View Controller) design pattern. The MVC framework enables applications to be adaptable, dynamic, and simple to use.
11. Increased flexibility: Despite its complex design architecture and server speed, Angular is very easy to use, which is why it is widely adopted across various sectors ranging from small to big.
As is well known, Angular is one of the finest JavaScript frameworks available today and has shown significant advantages for commercial organizations. Implementing the framework may significantly enhance the performance of your website and help you grow your company. Additionally, it is the most commonly used platform for building efficient web and mobile app locations across the globe.
We are the best AngularJS development company because we understand the value of using AngularJS in the real world.
Developers with Prior Experience
The most important attribute of our Angular-centric web development experts is their ability to create custom, innovative, and highly interactive web and mobile applications. Whether a startup or a small to medium-sized business, our specialists will get the job done.
Reliable Modes of Delivery
We use an agile approach to keep you informed. We concentrate on providing solutions that fit your company objectives, schedule, and budget for Angular web and mobile development.
Competitive rates
We provide the most affordable prices on the market for Angular web development and mobile development. Our customized services cater to the diverse financial requirements of our global customers.
Methodology of Work Transparency
From the moment you contact us with your requirements, our Angular Development Company guarantees full project visibility. We communicate with our customers frequently through email, phone, Skype, Slack, and other platforms.
Customer satisfaction is important to
Every member of our team—designers, developers, quality analysts, and a project manager—is dedicated to ensuring client happiness. We provide Angular web development and mobile development services that are tailored to our customers' specific requirements.
In conclusion
There is an increasing need for interactive web and mobile app design that provides a pleasant user experience. The Angularjs framework enables developers to create user-friendly applications in response to this need, retaining customers and growing revenue. With Angular development experience, we provide online and mobile development solutions with cutting-edge design and functionality. As a top Angular development service, we specialize in delivering high-performance cross-platform apps.
As one of India's leading Angular Development Company, we provide a comprehensive range of solutions for developing various online and mobile applications with cutting-edge design and functionality. Our Angular web development specialists understand your business and development requirements to implement the appropriate solutions. With our meticulously designed Angular development services, we support businesses in realizing their business goals and standing out from the competition.