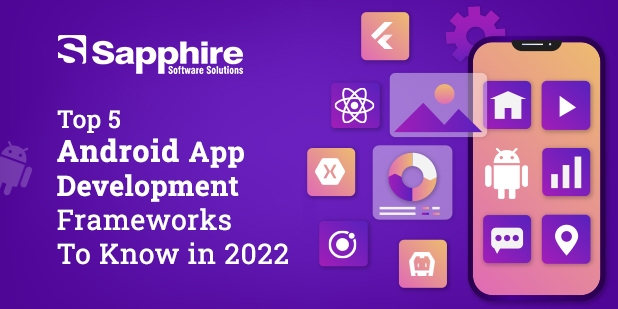 Blog
Top 5 Android App Development Frameworks to Know in 2023
Android has easily topped the list of the best operating systems for mobile application development for many years. Hundreds of Android frameworks, tools, and other technologies are available today for application development. However, how should one pick the plethora of new Android frameworks available for mobile application development? Also, Check out the best android app development services.
What is an Application Framework?
Application frameworks are intended to ease the process of developing mobile applications and make them easier to manage, alter, and solve errors in the development. A framework establishes the framework for an application, which it may then enhance with visuals, animation, unique features, and functionality.
A framework for Android applications is a software toolkit that allows application developers to create a final product that satisfies the proprietor's specifications. There is a distinction between SDKs (software development kits) and frameworks. SDK includes frameworks for software development. We offer the best android app development services.
Numerous Android application development frameworks have several common characteristics and unique features that make them more suitable for specific applications. The application framework you choose should be tailored to your project's particular needs.
The Characteristics of a Good Android App Development Framework
With so many Android application frameworks available, it may be difficult to identify those that stand out and suit the objectives of developers and stakeholders. To distinguish sheep from goats, we utilized the following criteria:
Cross-platform capability: Cross-platform frameworks allow developers to share a single codebase across several operating systems, ensuring that a single program looks, feels, and performs identically on any device. Additionally, all updates and fixes are immediately reflected globally. Even if your primary goal is to create an Android application, choosing a framework that supports many platforms may save you time and money in the long run.
Popularity among developers: App developers prefer to work with Android frameworks that streamline the creative process and eliminate roadblocks along the way. Additionally, they want to test, diagnose, and repair errors in the simplest and most time-efficient manner possible.
As applications get more sophisticated and complicated, the ability to change framework pieces to provide the optimal user experience for each project is critical for high-end application development.
Let's begin by examining the five new Android frameworks available for app development in 2022. This article provides detailed information about each framework and will assist you in selecting the best Android framework for developing your app in 2022.
1. Android's Corona SDK framework
Corona SDK was launched in 2009 and is a free-to-use Android SDK framework with a simple syntax. It's commonly considered the most advanced two-dimensional mobile development platform for Android and iOS.
Corona SDK is widely used in the development of Android games. However, many Android developers choose to utilize it as a general-purpose framework.
Significant Characteristics:
•An intriguing characteristic of the Corona SDK is that it allows a development process that is ten times quicker than that of the majority of other Android app frameworks.
•Using a single code base, Corona SDK enables the development of mobile and desktop applications and games.
•The framework is compatible with both Windows and Mac operating systems.
•Corona's backend framework is written in Lua. Lua is a multi-paradigm programming language designed to be simple to learn, lightweight, and robust.
•It comes pre-configured with over a thousand feature-rich APIs, a plethora of plugins, and a dynamic advertising platform for developers.
•Additionally, it offers native user interfaces and real-time testing.
2. Sencha Touch for Android
Sencha Touch is a development framework dedicated to creating native Android apps. Additionally, it is often the community's greatest Android development framework.
Sencha Touch is a dynamic and full application framework based on JavaScript and HTML5. Sencha Touch-based Android apps run well due to the development framework's hardware acceleration methods.
Significant Characteristics:
With over 50 user interface components and native themes, this new Android framework enables the creation of visually appealing mobile apps.
•It also enhances the applications' distinguishing qualities, such as rich fluid animations and smooth scrolling.
•Several large corporations have lauded Sencha Touch for its broad compatibility, snappy touch features, and lightning-fast execution.
3. TheAppsBuilder
TheAppsBuilder is a revolutionary new Android framework that is HTML-based and provides a codeless UI. As a result, no prior coding development is required to utilize this framework for developing Android mobile applications.
TheAppBuilder is well-suited for developing Android apps that provide information. The framework's drag-and-drop capability helps you rapidly construct the application.
Significant Characteristics:
•TheAppBuilder includes pre-built blocks for functionality like feedback, content updates, polls, and push notifications.
•Perhaps the most appealing element of this new Android framework is its seamless integration with Google Play, which includes a social network presence.
4. React Native
React Native is an open-source, cross-platform development framework released in 2015. It's one of the most promising new Android frameworks for mobile app development, and it's supported by Facebook. Look out the best android app development services.
React Native builds Android and iOS using React, a huge JS framework. The cross-platform capability enables developers to create code once and then run it on other platforms. As a result, developing an Android mobile application is quite short and cost-effective.
At times, developers often encounter issues such as the Iteration Period, codebase discrepancies, and imperative programming. React Native provides the greatest answer to these issues, establishing it as the market leader among new Android frameworks.
Significant Characteristics:
•With built-in UI components and native API access, React Native enables Android applications to have a sophisticated appearance and performance.
•It has a hot-reload capability that allows developers to change files without affecting the app's current state.
Construct Your Dream Project With The Industry's Best Team
We are experts in developing software solutions that optimize return on investment without sacrificing quality.
5. Xamarin
Xamarin, owned by Microsoft, is an open-source framework for developing Android applications using ".NET." It is older than the majority of other cross-platform frameworks. After integrating with the Visual Studio IDE, Xamarin drew the attention of several major companies.
Significant Characteristics:
•Xamarin provides a powerful toolkit that enables developers to collaborate on C# or XAML code.
•This code-sharing functionality reduces developers' coding time and the number of faults encountered throughout the development process.
•This development framework uses Microsoft's cloud testing service to enable simple app testing across various devices.
Bottom Line
As a committed and creative Android App Development Company, we combine our expertise with cutting-edge mobile technology to create cutting-edge mobile applications for almost all platforms. Since our inception, we have created market-leading and trendy Android apps for various sectors. We vary from other Android application development companies in that we delve into the heart of each client's company to ascertain all of its objectives and target audience and then develop comprehensive strategies to meet those demands.