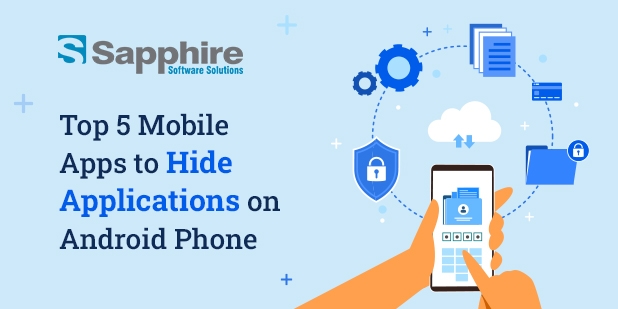 Blog
Top 5 Mobile Apps to Hide Applications on Android Phone
Today, we are going to discuss about the best apps for hiding applications on Android Phone. (Best app hider for Android)
We engage in various activities on our cell phones, such as playing games, watching movies, taking amazing images, etc. However, there are instances when we need to protect our privacy using the android app hider on our Android smartphone. Apps, the most prevalent material seen on smartphones nowadays, almost certainly include sensitive information that should be concealed from the general public.
Here are the top 5 mobile apps to hide applications on your android phone:
Try out these android applications to hide applications on your android phone.
1. Hide It Pro
This app is also known as the Audio Manager app in certain circles. It offers reliable security for any concealed material, and you may use it to hide photographs, movies, and other media. As long as it is downloaded and installed on your device, concealing apps is relatively easy, thanks to this feature. During the installation, all that remains for you to do is configure the safeguards it will provide. After that, you will have the option of securing your account with a PIN or password. It is now much easier to conceal data and files, even if doing so involves having root access. Before you utilize root access, you must ensure you understand how it works.
2. App Hider
On Google Play, this is undoubtedly one of the most useful apps for concealing other apps; I've used it with great success with WhatsApp, Instagram, and Facebook Messenger. It is a gorgeous app cloner that gives you access to several accounts on a single device, allowing you to manage all of your accounts in one place. It can also conceal movies and photographs and even disguise itself as a calculator to hide the App Hider. Using the settings for our App Hider, you can turn off the hidden app notification. Simply import the app you wish to secure into App Hider, and then delete that app from your Home operating system. Hire android developers from Sapphire Software Solutions.
3. Hide App Application
Using this android app hider, you can hide the icon on your app. The Google Play Store makes it accessible for no cost and allows users to download it. You need root access to hide apps since this feature will not work on devices that have not been rooted. When you have finished downloading it, you will be informed whether or not your phone has root access.
The Hide App Application features a straightforward graphical user interface (UI) and is easy to use. You will be provided with a PIN lock to protect the security of your stored material. It also enables Auto Backup and Restores, which is helpful if the app is removed from the device without the user's knowledge. When you reinstall the app on your phone, it will automatically back up all the hidden apps and then allow you to restore them.
4. DU Privacy Vault App
This android app hider allows users of Android phones to conceal apps on their devices. It has various capabilities that enable you to protect even the most diminutive documents. You may hide other people from accessing your apps by locking or hiding them using this app. You may also use it to hide pictures, video files, and different file types. You are provided with the ability to lock everything down with a password for further peace of mind. You also can alter the password. You can use either the Pattern Lock or the Passcode Lock to establish a password for your account. It is also possible for your calls to be concealed. The Break-in Alert function of it will be of assistance to you if an unauthorized third party tries to log in.
5. App Icon Hider Application
This app allows you to conceal other apps inside the menu of your mobile device. It costs nothing and can be downloaded from Google Play. You can hide any app in the world from whomever you are trying to conceal it from. Make sure that your Android operating system is version 4.0 or later to make this work. Protecting your apps via the App Icon Hider application does not use any more storage space on your phone. It features a straightforward graphical user interface. A password protects each of the apps that are concealed from view. You may also modify the previous password by substituting a new one. Simply checking the box next to an app's name can hide or reveal it.
FAQs
1. How to hide android apps?
Some Android models, such as those manufactured by Samsung, LG, and Xiaomi, provide users the ability to modify app permissions from inside the settings of the phone, making it possible for users to hide Android apps without the need to install an additional app on their device. You may also conceal apps without needing third-party programs by using the Secure Folder and PrivateSpace capabilities, respectively, available on Samsung and Huawei handsets.
If you are not content with the app concealing capabilities that come standard with Android, you will need to download a third-party app developed expressly to hide Android apps. You may hide your apps entirely with the aid of these apps, or you can modify the titles and icons of the apps that are now shown on your screen. Some of these hidden app hiders can even disguise themselves as a different kind of stealthy app, such as a calculator or a calendar.
2. Which app is best for hiding?
We often find ourselves where we need to conceal Android apps to stop children or other people from accessing them. Below you will find a few different ways to hide apps on an Android device. Even if the manual hiding of apps is not supported on your app, you may still get the effects you want by downloading one of the third-party applications listed above. Apart from these, LockMyPix Photo Vault, Calculator by FishingNet, and Hide Pictures & Videos are some of the best apps to hide. You could use security apps on your smartphone to protect it from spyware, malware, and other third-party data trackers and safeguard it from anyone manually looking through its contents.
Well, we are the best android app development company in India, USA. If you are looking to build hide apps like the above ones, we can help you! So, what are you waiting for! Hire us to build an android app hider for you.
3. How to hide apps: Step-by-step guide?
– To hide apps on your Android phone, you will need to first open the Settings menu.
– You can find the Settings menu by tapping on the gear icon in the app drawer and selecting "Settings."
– Once you're in the Settings menu, you will want to select "Display."
– From here, you will want to select the "Apps" option. Next, you will want to select the "Hide App" option. To hide an app, simply tap on the "Hide App" button.
– You can also unhide an app by tapping on the "Unhide App" button. If you have hidden multiple apps, you will need to repeat the steps for each app.
4. How can I hide apps that are always visible?
If you want to hide apps that are always visible, you will need to repeat the steps for each app. You can also try hiding apps in the "Apps" menu, but they will still be visible in the app drawer.
5. How can I unhide an app that I've hidden?
If you've hidden an app, you can unhide it by clicking on the "Unhide App" button. If you have hidden multiple apps, you will need to repeat the steps for each app.
6. Why are some apps are hidden and others not?
Some apps may be hidden to save space on your phone. Others may be hidden to keep your privacy.
I hope, you will like this blog about the best app to hide apps.